You've probably heard of Square, the credit card processing company that lets you take credit cards using your smartphone or tablet. What you may not know is that there are a lot of alternatives.
So if Square is just too expensive or you're looking for something a little different, we'll help you compare some popular mobile card readers and POS systems. The current options cover a broad range of features and price points, meaning you can find the best Square alternatives without hassle.
When we list price, it is for the device or system only unless otherwise noted. Prices subject to change. Check with your payment provider, or use CardFellow's free quote comparison tool to quickly receive these latest rates and fees for your business. Finally, for more information, a link to CardFellow's latest detailed review is included at the end of each product explanation.
---
Account Types and Pricing
In this guide to Square alternatives, we'll include both direct competitors (like PayPal Here) that use the same pricing model, and competitors that use a different model (like CardPointe Mobile.) The reason for this is that the best alternative for you will depend on your specific business. With a little information, you'll be able to choose a Square competitor that's the right fit for your budget and your needs.
Square is a "flat rate" processor that charges you the same amount per transaction no matter what type of card your customers uses. While this type of pricing looks simple, it's not necessarily the lowest cost. There is a "sweet spot" for flat rate processing, and if you fall outside of it, you're overpaying. For swiped transactions, a flat rate processor will be the lowest cost option if your average transaction is under $10 or if you take less than ~$2,000/month in credit cards. If you don't fall in this range, you should consider non-flat rate Square alternatives.
With that in mind, let's look at options.
Square Alternatives: Mobile Readers
These days, almost every processing company offers a mobile reader. Connected to your smartphone or tablet via headphone jack or Bluetooth, the readers let you take credit cards on the go. That means that almost any processing company can be a competitor for Square. The chart below shows Square competitors, providing key features and differences at a glance. The information in the chart is described in more detail in each competitor's section.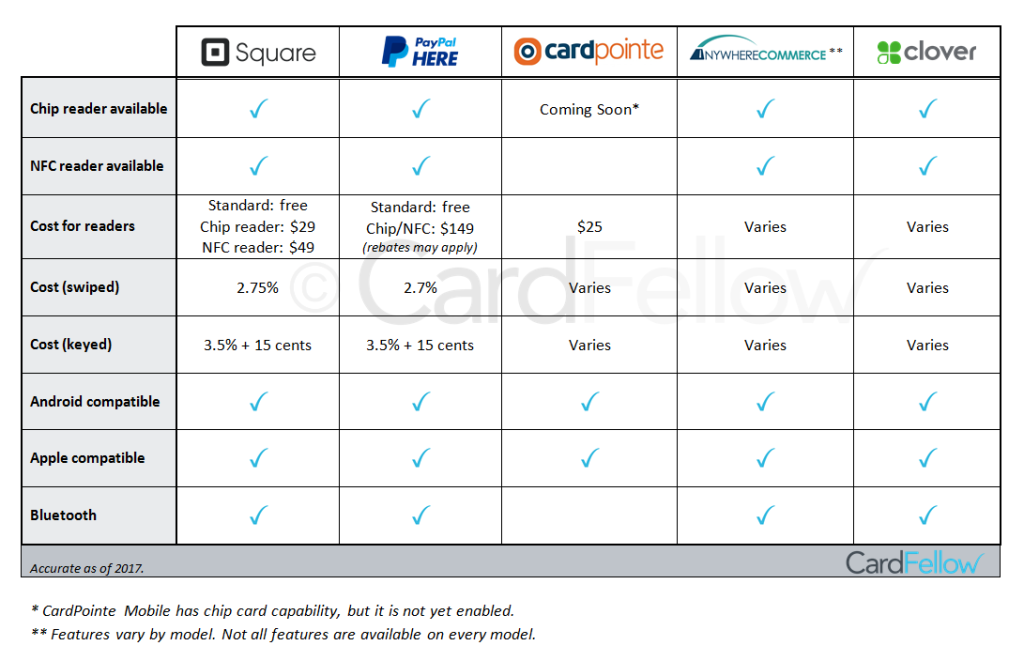 Before we get into the competitors, we'll give a brief overview of what Square offers to serve as our basis for comparison.
Square Reader Baseline
Square offers several different readers. One is a magnetic stripe only reader, meaning you cannot use it to accept EMV chip cards. That reader is free. Another reader is a combination magstripe/EMV chip reader and costs $29. Lastly, Square offers an EMV/NFC combo reader. (Note that the EMV/NFC reader doesn't accept magnetic stripe cards, so you'll still need a magstripe reader.)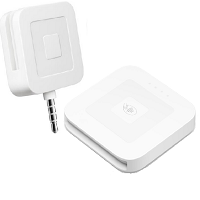 Readers are available for both Apple and Android devices.
Square will cost you at least 2.6% + 10 cents per transaction if you swipe a card and 3.5% + 15 cents if you key in the card manually. If you use the Square for Restaurants or Square for Retail apps, you will also pay a monthly fee.
Note that Square does not have a customer service phone number for general inquiries. You must be a current client and receive a confirmation code each time you'd like to access customer service.
CardFellow's full Square review.
---
PayPal Here
One of the biggest Square competitors, PayPal Here, also offers a choice of readers. The standard card reader accepts credit and debit magnetic stripe cards, but not EMV chip cards or NFC "tap" transactions. Your first standard reader is free, while additional units cost $14.99.  A combination reader is available for $149, with possible rebates. The combination reader lets you take chip cards (both PIN and signature), magstripe cards, and contactless (NFC) payments like Apple Pay. PayPal also offers an EMV/NFC "bundle" reader with a stand, pictured below.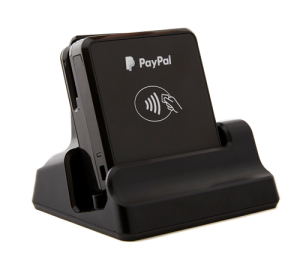 It's compatible with Apple, Android, and Windows devices through your smartphone or tablet's audio jack or Bluetooth. Check processing is also available, unlike with Square. PayPal Here has all the standard payment bells and whistles – custom tax/tip options, item discounts at checkout, and full/partial refunds – but no back office/business management tools.
PayPal Here is slightly less expensive at 2.7% per swipe transaction.  Keyed transactions are the same at 3.5% + 15 cents. As with Square, PayPal Here is only available through PayPal. You will not be able to choose a processor to use with your PayPal Here reader.
Differences between PayPal Here and Square:
Getting a PayPal Here account may require both credit and background checks while Square only requires a quick business check. PayPal approval is not immediate. Funds are deposited into your PayPal Account the same day, but transferring them to your bank often takes from two to five days. However, there are multiple customer service channels: phone, email, and community (chat) support are available.
CardFellow's full comparison of Square vs. PayPal Here.

CardPointe Mobile
One of the newest encrypted mobile options is offered by CardConnect and works with many smaller processing companies that use the First Data platform.
CardPointe is not a flat-rate processing solution, and therefore doesn't publish rates and fees on its website. It can be a good alternative if you fall outside of the flat rate processing "sweet spot" as pricing will be specific to your individual business.
CardPointe is available for both Android and Apple devices. It works with or without an attached card reader (but you should have one!) accepts all major credit and debit cards, and allows you to view reports, along with a few other simple but handy management tools.
Differences between CardPointe and Square:
Unlike Square, CardPointe's mobile option gives you a choice of payment processor. If you're outside the "sweet spot" for flat rate processing, it will usually be less expensive to use traditional processors. CardPointe also offers more customer service options than Square.  There are also processors in the CardFellow marketplace that can offer CardPointe Mobile services.
CardFellow's full CardPointe Mobile Review.
AnywhereCommerce
AnywhereCommerce offers mobile card swipers in three different lines: Rambler, Walker, and Nomad. The readers are universal, meaning they can work with virtually any payment processor, but you'll still need to check compatibility with your preferred processor. After you download the mobile app, you can connect the reader to your mobile phone or tablet via the headphone jack or Bluetooth, depending on the model you choose. Acceptable payment types also vary by model. All offer basic inventory management.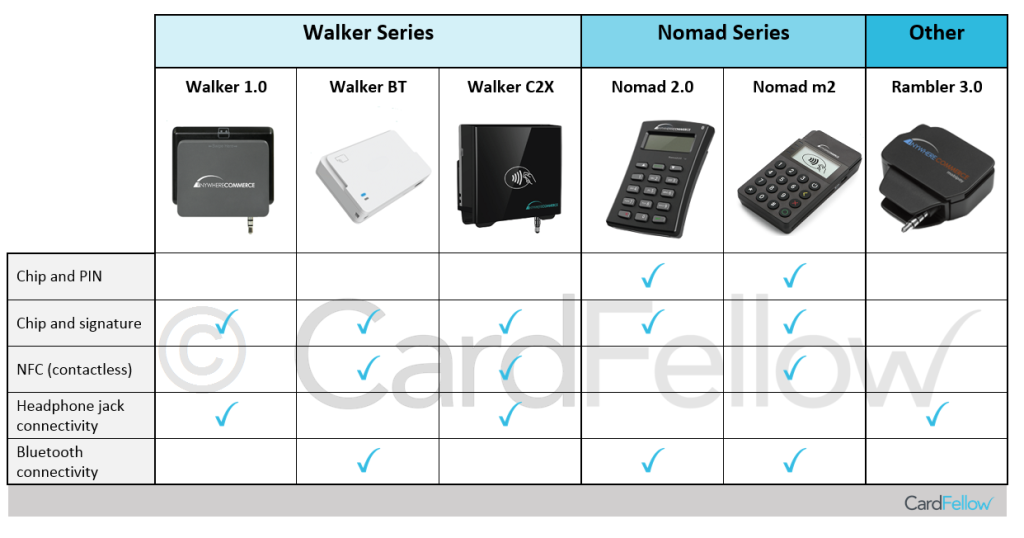 Rambler – Magstripe only, headphone jack connectivity
Walker 1.0 – Magstripe and chip (signature), headphone jack connectivity
BT – Magstripe, chip (signature) and NFC payments, Bluetooth connectivity
C2X – Magstripe, chip (signature), and NFC payments, headphone jack connectivity
Nomad 2.0 – Magstripe, chip (signature and PIN), Bluetooth connectivity
Nomad M2 – Magstripe, chip (signature and PIN), NFC payments, headphone jack connectivity
Readers are PCI compliant and all data is encrypted to help minimize the risk of fraud.
The cost of a reader varies depending on where you purchase it. Chip and PIN capable readers and readers with Bluetooth capability may cost more than chip and signature readers and headphone jack models.
Differences between AnywhereCommerce's Walker and Square:
Unlike Square readers, the AnywhereCommerce line is not limited to one particular processor, so you may be able to secure lower costs and more options for customer service. Additionally, the variety of readers ensures that you can choose exactly what options you need. Square does not currently offer a chip and PIN-capable reader, so if you want to take debit cards where customers enter their PINs, you'll have that option with some AnywhereCommerce readers. There are processors within the CardFellow marketplace that can support AnywhereCommerce readers.
CardFellow's full account of AnywhereCommerce Mobile Readers.
Clover Go
This is First Data's answer to Square and PayPal Here and is often considered a direct competitor. Depending on the processor, you can be charged on either flat rate pricing or another pricing model, such as interchange plus. Clover Go works with First Data or any processing company that uses the First Data platform.
There are two readers available: a combination EMV/magstripe reader that connects via headphone jack, or a Bluetooth EMV/magstripe/NFC reader. The cost varies depending on which model you choose and where you purchase it. The readers generally range from $30 to $100.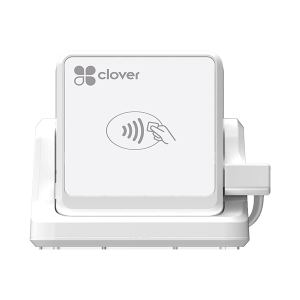 Some of the Go's popular features include a quick pay mode, customizable sales taxes, customer-added tipping options, email/SMS receipts, the ability to offer full and partial refunds, and Clover's proprietary back office reporting.
Differences between Clover Go and Square:
Clover Go can work with all processing companies whose back-end processor is First Data rather than being limited to one company. First Data is one of the largest credit card processors in the world, so you'll have a large choice of processing companies. If you're not in the "sweet spot" for flat rate processing, you'll have the option of using a processor with pricing models that are more beneficial to your business. You'll also generally have more customer service options than with Square. There are processors in the CardFellow marketplace that can offer Clover Go readers.
CardFellow's full Clover Go review.
---
Square Alternatives: Tablet and Compact POS Systems
Square is known for its mobile readers, but several years ago it introduced a compact, tablet-based POS system, the Square register. (Also called Square Stand or Square POS.) Popular with coffee shops in particular, the Square POS offers basic point-of-sale functions using the same flat rate pricing as its mobile offering.
Therefore, the same "sweet spot" applies – if your average transaction is less than $10 or if you accept less than about $2,000 per month in credit cards, Square or another flat rate processor will likely be the lowest cost option for your business. If you don't fall in that range, it will be worth your time to consider other pricing models and processors. Here are some options for both.
Square POS Baseline
The Square POS system uses the Square Register app to securely accept credit cards, cash, checks, and gift cards.  But optional EMV and NFC (contactless) accessories must be added if you'd like to accept chip cards or contactless payments like Apple Pay. The Square Stand (which itself costs an $99) has a built-in magnetic stripe reader, but will not accept chip cards or NFC payments unless you add the optional accessories for those payment types.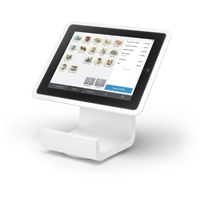 Square POS offers several helpful features for in-person store transactions: tax and tip adjustments, tabs, gift cards, employee logins, payroll (in select locations), and email or printed receipt options.
The POS includes some basic inventory management functions and reporting. As with the mobile reader, if you want to use the Square Stand as your POS system, you'll have to use Square for processing. Additionally, you'll have to jump through the hoop of getting a confirmation code before you can contact customer service.
Square charges 2.6% + 10 cents for all swiped transactions, and 3.5%  + 15 cents for keyed transactions. Additional fees may also apply for services like payroll or if you use the POS apps Square for Retail or Square for Restaurants.
CardFellow's complete Square POS review.
---
Poynt POS
The Poynt POS is a compact point-of-sale system for in-person payments. It works with many processors and its dual screen allows simultaneous staff and customer viewing. Designed to be "future-proof," Poynt accepts virtually all payment types – magnetic stripe credit and debit cards, chip credit and debit cards, contactless (NFC) payments, gift cards, and QR code payments. The terminal offers encrypted Bluetooth and 3G wifi network connectivity.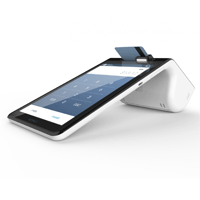 The Poynt POS system retails for around $499, but may cost more or less depending on where you purchase it. (Be wary of leasing credit card processing equipment.) Poynt itself doesn't charge per transaction. Instead, the processing company you choose sets those costs.
Differences between Poynt and Square:
Poynt is currently a more limited terminal than the Square Register. While Poynt expects to add apps over time that will increase functionality, it doesn't currently have options for inventory management or other back-office functions, and is closer to a countertop terminal. However, the Square system is also a limited POS and is often used by businesses that don't require the bells and whistles of an expensive, robust system. If you're looking for the basics, Poynt can be a good alternative to the Square register. Additionally, Poynt offers the ability to shop for a competitive processor.
CardFellow's complete Poynt review.
---
NCR Silver
The popular NCR Silver offers cloud-based Apple or Android POS packages. Both offer a two-week free trial. The special Silver Pro Edition is designed for restaurants and includes features such as staff management, check splitting, inventory and employee management, integrated marketing and customer loyalty program management, and sales reports. The system is also compatible with QuickBooks.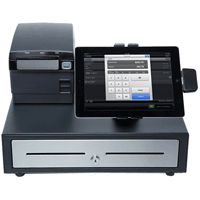 Accessory bundles are available to build out the POS system at additional charge, and include stands, card readers, receipt printers, cash drawers, scanners, and more.
NCR Silver Pro offers 24/7 live agent support, a very welcome feature if you need help at 3 in the morning.
NCR Silver doesn't set the pricing for your transaction charges; your processor will determine those costs. In addition to those costs, you'll pay NCR a monthly fee, with costs varying by plan. The Basic plan costs $99/month (or $79/month with annual contract) while the Pro plan costs $169/month (or $149/month with annual contract); each additional iPad costs $50/month. Additional iPads or iPhones require a 10-cent per-sale charge, capped at $39 a month per device. Both programs include free NCR hardware replacement, though the Basic package only covers one hardware system. Optional accessory bundle pricing is not included in the above costs.
Differences between NCR Silver and Square:
There are several big differences. NCR Silver is a much more robust POS system, with detailed reporting and a broader range of functions. Business owners with multiple locations, lots of inventory, or who prefer detailed reporting and management options will find a full-featured POS system like NCR Silver more to their liking. Additionally, the company offers 24-hour support and doesn't require confirmation codes to use it. Lastly, NCR Silver works with multiple different processing companies, allowing you to find the most competitive pricing on transactions. However, Square's pricing for hardware is lower, and there is no monthly fee, as there is with NCR Silver. That said, even with monthly fees, it can still be cheaper to use a system like NCR depending on your business financials and the pricing you're able to secure with your credit card processor. There are processors in the CardFellow marketplace that offer NCR Silver.
CardFellow's complete NCR Silver review.
---
TouchBistro
Developed specifically for restaurant and beverage businesses, TouchBistro POS securely connects iPads for us as POS devices.  One appealing feature is tableside payment (or in line payment if customers are standing in a coffee bar or food truck ordering line) with receipts then emailed to customers.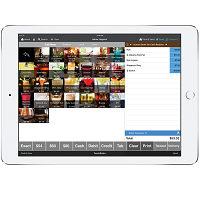 TouchBistro's extra features fill a small book: you can expect free software updates, cloud reporting, customer analytics, front-end and kitchen management analytics (including inventory), QuickBooks data export, PayPal acceptance, unlimited users, and 24/7 customer service. The system is somewhere in between Square and NCR Silver, edging closer to the the robust side.
Although it was developed with small-to-medium sized restaurants, beverage businesses, and food trucks, larger restaurants (and even franchises) are beginning to take a serious look at this POS and store management bundle.
TouchBistro breaks down the cost into monthly fees, but charges annually. There are four plans available:
Solo (one iPad): $69/month
Dual (two iPads): $129/month
Team (three to five iPads): $249/month
Unlimited (six or more iPads): $399/month
In addition to the monthly fee, the processing company you choose will set pricing for each transaction.
Differences between Touch Bistro and Square:
The obvious one is that Touch Bistro was built specifically for any type of restaurant business and includes robust restaurant-specific features. Its iPad system is universal, so it can work with many different processors. Additionally, even with monthly fees, you may be able to secure lower pricing than with Square if you're outside of the flat rate "sweet spot" discussed at the beginning of this comparison. You can also expect easier-to-reach customer service. Processors in the CardFellow marketplace may be able to offer TouchBistro.
CardFellow's full TouchBistro review.
---
Verifone Carbon
Six months after equipment provider VeriFone's April announcement of its mobile Carbon mPOS system, processor Vantiv announced in October as the first company to market the product in the U.S.
The Carbon will be compatible with processing companies that use the Vantiv platform. You can add specialized apps tailored to your business such as loyalty programs, customer-facing marketing messages, and coupons for regularly-purchased items, to name a few.  This universal system – like Verifone's card readers – is expected to work with virtually all payment providers.
The countertop unit (which detaches as a portable device) also offers optional cash drawers.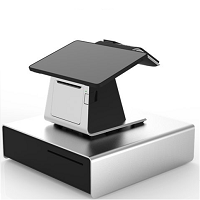 Pricing for the POS itself is not available yet. Your processing company will set per-transaction costs.
Differences between VeriFone Carbon and Square:
Unlike Square, the Verifone Carbon system is not limited to one payment processor. If you need to switch companies in the future, you'll likely be able to continue to use the same machine. The handy all-in-one countertop/portable POS system can eliminate having both register and mobile devices in small businesses that don't serve many customers simultaneously. Additionally, you may be able to secure lower pricing per transaction using the Carbon than Square POS or Square readers.
CardFellow's complete Verifone Carbon review.
---
Conclusion
Just because Square is one of the most-well known readers and POS systems doesn't automatically mean it's right for your business. The Square alternatives described in this article illustrate the variety of options available.
If you're still not sure how to choose, we're happy to offer independent, expert advice. You'll first need to get pricing for your specific business so we can help you understand what different options will cost. Our price comparison tool will show you the costs you can expect. It's completely free to use, and you won't receive sales calls. Try it here.
Once you have your pricing, give us a call or send us an email and we'll help you understand your options for getting the right features at the right price.