Point of sale apps let you carry out more functions than simple cash registers or credit card readers.
Depending on the app, you can expect features like inventory management, employee timeclock / tracking, or detailed reporting, as well as industry-specific functions. In fact, the right POS app can help you streamline everything from product ordering to employee time tracking. But which point of sale apps offer the best value? We've narrowed down our top picks.
---
Best Point of Sale Apps
These apps offer great features, a choice of credit card processors, and different operating systems so that you're sure to find the right fit for your business. Of course, the right app for you will vary depending on your needs, but here are our favorites. (Not in any particular order!)
Our picks for the best POS apps for 2023 are:
Clover
Vital
NCR Silver
Shopkeep by Lightspeed
Lavu
Revel
Paradise POS
Note: All of our choices are either "universal" or "platform-specific" systems, meaning they can work with multiple credit card processing companies. We haven't included any "proprietary" systems that require you to use a specific processor.
CardFellow does not earn money from referring you to POS apps. However, if you sign up with a credit card processor through our marketplace, we do earn commission from that processor. Additionally, we work with processors that support many of the POS apps listed.
Clover
The Clover POS app is a customizable solution for a variety of business types. When you use Clover, you have access to the Clover app market to create a POS system that's tailored to your specifications. Plus, Clover offers stationary POS solutions like the Clover Station, and portable options like the Flex. The Clover Mini offers more features than the basic machines without the size of a full POS. There's also a smartphone option, the Clover Go.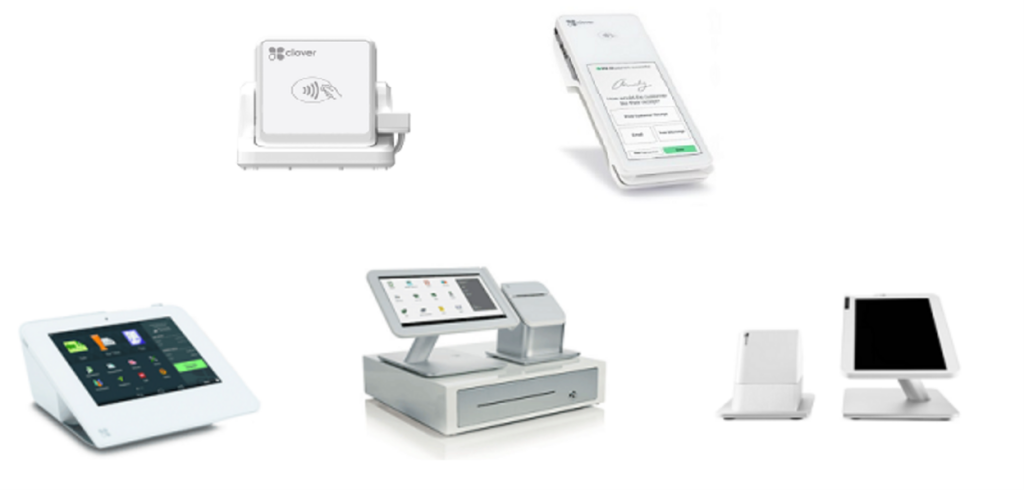 Top, left to right: Clover Go, Clover Flex
Bottom, left to right: Clover Mini, original Clover POS, Clover Station 2018 POS
We like that Clovers aren't restricted to one processor (they work with any company that runs on Fiserv's platform) but the downside is that they can't be reprogrammed. Once you buy a Clover, you'll need to stick with the processor you purchase it from or else buy a new machine to switch.
Features
Payment processing
Contactless payments like Apple Pay
Inventory management
On-screen signature capture
Barcode scanning
Additional features may be available with certain Clover models, especially if you choose to use the Clover app market to download specific apps.
For full details on the different features available with Clover systems, be sure to check out our Clover POS review or Clover Go mobile POS review.
Vital
We added the Vital POS to our top choices early on as it showed a lot of promise with great features and usability. The system hasn't disappointed and continues to make the list.
Like Clover, the Vital systems offer both stationary POS solutions and portable options. We're big on POS apps that don't lock you in to one specific processor. Vital runs on TSYS's platform, which means you can use it with any processing company that works with TSYS. (And there are a lot!)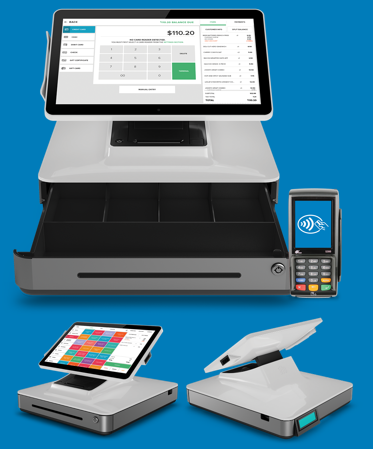 Like the Clover, the downside is that it can't be reprogrammed. Just be sure that you're planning to stick with your processor for a while when you purchase a Vital system.
Features
Payment Processing
Barcode scanning
Contactless (Apple Pay etc.) capable
Kitchen displays
Color-coded order entry menus
Inventory management with category capability
That's the quick list of features. For full details, check our Vital Pro review.
NCR Silver
It's a staple for brick-and-mortar businesses for a reason. Loaded with features and easy to use, NCR Silver also offers mix-and-match hardware to craft your perfect POS solution.
It offers both retail and restaurant options, but NCR has really made a name for itself in the restaurant industry. In fact, the Silver Pro Restaurant Edition POS app is, as the name implies, specifically created for restaurants. It offers a range of features such as happy hour discounting, the ability to open and close out bar tabs, and support for kitchen displays.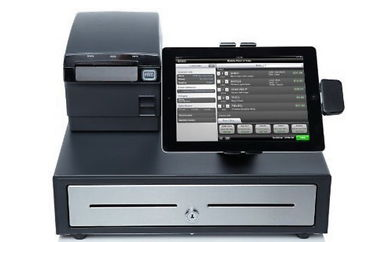 NCR Silver has been around since the beginning of POS systems, and remains popular due to its robust features, choice of processors, and customization options. Purchase also includes the "Silver Concierge" customer service package, which includes monthly maintenance for your menus, assistance with setting up your POS, and more.
Features
Payment acceptance
Inventory management
Bar tab management
Kitchen displays
Employee management
Silver Concierge customer service package
That's not all you'll get! Check out the full details in our NCR Silver review.
Shopkeep by Lightspeed
Initially on our list as an independent company, Shopkeep has since been acquired by Lightspeed. (And is now known as Shopkeep by Lightspeed.) However, Lightspeed states that Shopkeep systems will continue to operate and be maintained as usual, allowing customers to keep using the popular solution.
A tablet-based POS system, the Shopkeep by Lightspeed app offers great features for both restaurants and retailers. The systems integrate with optional accessories like cash drawers and weight scales, perfect for businesses that sell items by weight such as produce or frozen yogurt. You'll also have options to print or email receipts to customers.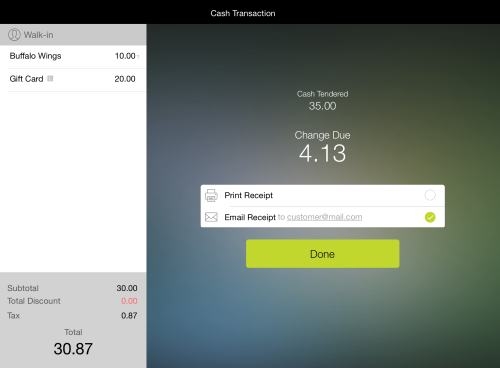 Shopkeep started off as only an iPad system, but the company announced support for the Android operating platform in 2018.
Shopkeep for Lightspeed works with Lightspeed Payments, but Lightspeed does allow you to use other processors. There's a limited list, including Vantiv, Canyan and Mercury Payments. It's worth getting quotes for comparison. (Bonus, you can do that easily with your free CardFellow account!)
Features
Payment acceptance
Employee management
Check splitting
PayPal acceptance
Tableside ordering
Need more info? Our Shopkeep review has the latest information on features, costs, and more. Don't forget to leave a review if you use this system!
Lavu
The name Lavu might be new to you, but the restaurant-focused POS app offers plenty of great features, including a full color screen with photos of menu items. That lets your staff quickly see exactly what they're adding to an order. The optional kitchen display system (pictured below) makes it easy for kitchen staff to see orders without fussing with paper tickets.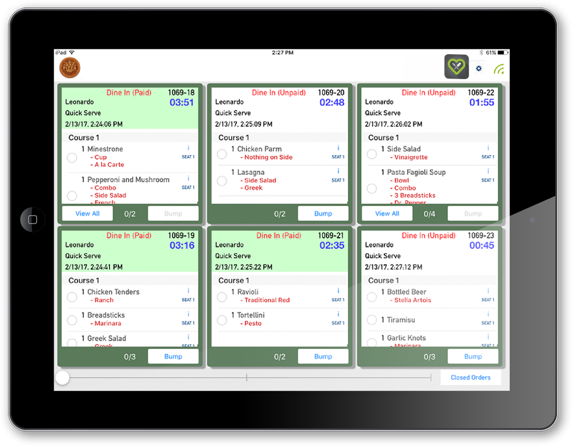 You can also take advantage of a host of important restaurant features, such as check splitting, tableside ordering, and more. Lavu heavily promotes its own payment processing solution – Lavu Pay – but the iPad app is compatible with different credit card processors. Be sure to compare options before settling on a payment processor for your POS app.
Features
Payment acceptance
Inventory management
Kitchen displays
Customer loyalty programs
Online ordering and delivery
Detailed reporting
That's just a few of the main functions the app provides. See all of the features in our Lavu review.
Revel
The Revel app has made a name for itself over the past 10 years. It works well for both restaurants and retailers, as well as service-based businesses like salons. The appointments function makes booking clients a snap. Revel also has convenient gift card redemption options right in the payment acceptance screen – perfect for businesses that sell lots of gift cards.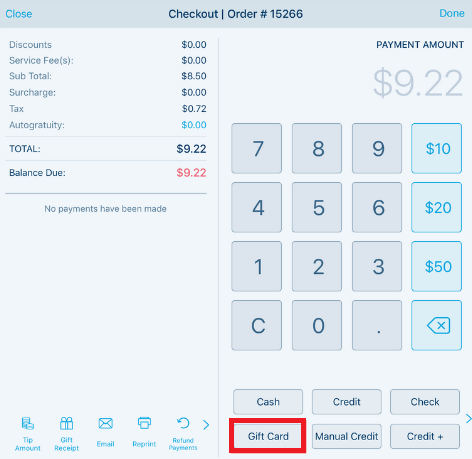 The iPad-based system doesn't come in equipment bundles, meaning you'll create your own hardware package. The basic system is just your iPad with the Revel point of sale app. But that doesn't mean you can't create a full-featured system if that's what you need. In fact, Revel is compatible with almost any accessory you can think of. That includes cash drawers, receipt printers, barcode scanners, coin dispensers, digital menu boards, and more.
Lastly, Revel is compatible with multiple payment processors – a key feature we look for when we choose our "best of" here at CardFellow. After all, we don't want to send you to a system that locks you in to the wrong processor. With a universal optional, you have the ability to secure competitive pricing and great contract terms. Revel currently works with Fiserv (formerly First Data), Heartland, TSYS, WorldPay, Elavon, and Chase Paymentech.
Features
Payment acceptance (including bitcoin!)
QuickBooks integration
Delivery management
Combo meal creation
Tab management
Appointment scheduling
Gift card redemption
While Revel is credit card processor "neutral" – meaning it doesn't lock you in to one company – there's one warning: if you want to take EMV chip cards, you'll only be able to do so through a company called Freedompay. Otherwise, you'll process chip cards using the magstripe reader.
Get the full details on that and other aspects in our Revel review.
Paradise POS
You may not have heard of Paradise POS, but it's worth a look. The system isn't locked in to one particular processor, giving you the competitive leverage to find great pricing for your credit card processing. Additionally, Paradise is available with a retail POS app or a restaurant POS app to ensure you'll have the functions you need for your business.
The order entry screen offers easy options for entering the payment type and setting up different prices for cash discounts vs. credit paying customers.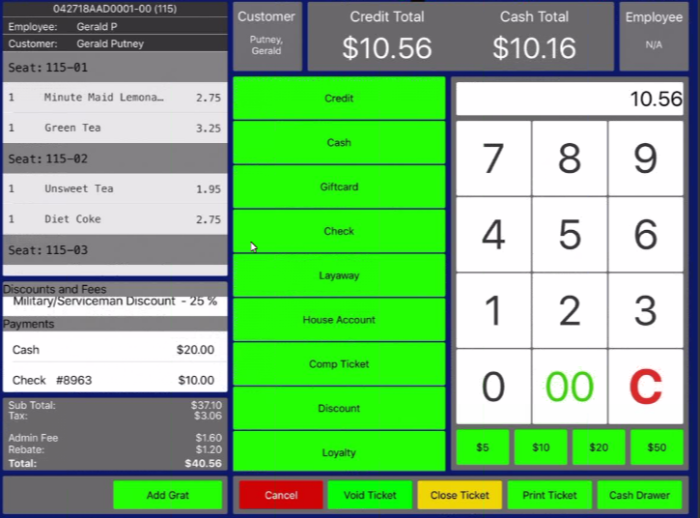 One difference between the Paradise POS app and some others is that you don't swipe cards directly through the Paradise hardware. Instead, you connect a compatible countertop credit card machine reader. Fortunately, Paradise works with several popular universal credit card machine companies, including PAX, Dejavoo, and Ingenico.
Paradise and USAePay partner to offer a cash discount program to businesses looking to defray the cost of accepting cards.
Features
Payment acceptance (with contactless capabilities for Apple Pay and others)
Inventory management
Payroll
Automatic cash discounting
Barcode scanning (for retail)
ID scanning (for restaurants)
Need the full list of features and details? Check our Paradise POS review.
Types of POS Apps
Point of sale (POS) apps are programs you can run on compatible hardware to carry out business tasks including taking payments, running reports, managing inventory, and managing employees.
Our list of the top point of sale apps on the market includes both mobile POS apps and traditional POS system apps.
Mobile POS vs. Full POS
The great thing about mobile POS systems is that they're portable. You can use them at tradeshows and conferences, for line busting, on deliveries, or at pop-up shops. The less-great thing is that they don't always have as many advanced functions as a full POS system.
When deciding on a mobile or full POS system, consider the following:
How often do I need to take payments on the go?
Do I need detailed inventory management or reporting?
Am I fine with basic features, or do I need specialty functions?
Smartphones and tablets have brought POS systems into reach for even the smallest businesses. Instead of shelling out thousands for a monitor-based system, you can spend a few hundred dollars for a sleek, tablet-based model that has all the features you'd expect from a traditional point of sale.
But the hardware isn't the most important consideration. In fact, there are many different options for Android, Apple, and Windows operating systems. So the thing you'll want to think about is the point of sale app itself. That's where the features come in.
POS App Features
As you might expect, the features available in a POS app vary quite a bit. Some apps offer just the basics, while others have everything but the kitchen sink. Still others (like Clover) come with some basic functions and then provide access to a robust "app market" so you can add additional features. (Though it may come at an additional cost when using this method.)
Basic Features
Basic POS features are ones that you'll find standard in virtually every point of sale app. You won't need to seek out these features specifically. Instead, they will be a "core" part of the app and typically included in the base cost.
Payment Acceptance
A core POS function is taking payments. That's why you'll see that every POS app out there allows you to take credit cards and record cash sales. In some cases, you can also accept checks, though you'll typically need a check reader to do so.
Mobile POS apps provide an option to use a headphone jack or Bluetooth card reader to swipe cards instead of manually keying in card details. Stationary POS apps offer either integrated readers built in to the POS hardware or connectible countertop card readers. Stationary systems offer the option to connect a cash drawer as well.
Inventory
These days, it's uncommon to see a POS app that doesn't offer some type of basic inventory management capabilities. However, at the most introductory level, the inventory features will be limited to entering items and prices. It functions more as an item catalogue than a true inventory management system. The idea is to allow you to more quickly ring up items when you don't have barcodes to scan. You can instead search for the items or browse by category to quickly add the item to an order rather than having to manually enter item details for each order.
While almost all POS apps will include an inventory management / item catalogue function, it's important to note that "inventory management" is a broad term. If you just need the ability to enter and save products and check quantities, you'll find that capability in most POS apps. However, if you want more robust features, including out of stock reports, purchase order creation, or ingredient-level tracking, you'll want to look for apps with those specific inventory management functions.
Transaction Reporting
All POS apps will provide at least limited transaction reporting. You'll be able to see your daily sales, card totals, and individual transactions. Some apps will include search by date functions or the ability to break down sales by category or card type.
However, as with inventory, if you're looking for more robust reporting, you'll want to seek out an app that specifically includes the option for the reports you need. Mobile POS apps tend to be more limited in their reporting capabilities. On the other hand, stationary POS apps typically include detailed reports as a core feature.
Mid-Range Features
Features that fall into this category are typically not available with the most basic POS apps, but are still common. You generally don't need to look too hard to find these features, but they're usually not available on mobile POS apps. Larger businesses or small businesses that are growing may see more benefit from mid-range features.
Detailed Inventory Management
Unlike item catalogues, a detailed inventory management module enables you to more accurately track inventory, set up low quantity alerts, get reports on out of stock items, and create purchase orders to restock.
Some restaurant-specific POS apps also include ingredient-level tracking so that you can keep tabs on the individual items needed for various dishes. Bar and pub-specific apps may also let you track pours left in a liquor bottle. All of these are helpful for the more precise tracking that allows close, careful management of inventory.
Comprehensive Reports
Another benefit to non-mobile POS apps is access to more detailed reports. In addition to the basic transaction reporting, you can run reports on labor / staffing, best-selling items, top salespeople, and busiest sales times. In turn, this can help you appropriately plan staff for your busy times, reward your best performers, and ensure your top items are in stock.
In the screenshot of the Vital POS reporting (below) you can see that the dashboard itself already includes multiple at-a-glance facts about sales, including total sales, discounts, tax, tips, and top selling items.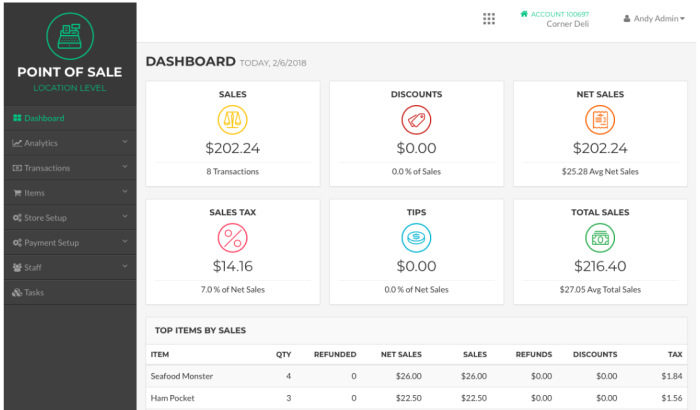 You can usually set reports to run at particular times and save or email the results for follow up and decision-making.
Employee Management
POS apps with employee management functions allow your staff to clock in and out right through the POS system, eliminating the need for a separate time clock. They can also view schedules and you can display staff messages upon clock in.
Restaurant-Specific Functions
When it comes to point of sale features, restaurants often have several specific requirements. Fortunately, many apps are geared toward restaurants and include crucial functions to keep your restaurant running smoothly.
Order Entry and Modifiers
For restaurants, the primary POS function is order entry. You'll find this feature readily available in restaurant-specific POS apps, but how order entry is designed varies. Some POS apps, like Lavu's (pictured below) allow you to upload pictures along with the name of the dish. That lets servers quickly scan for the item to add it to an order.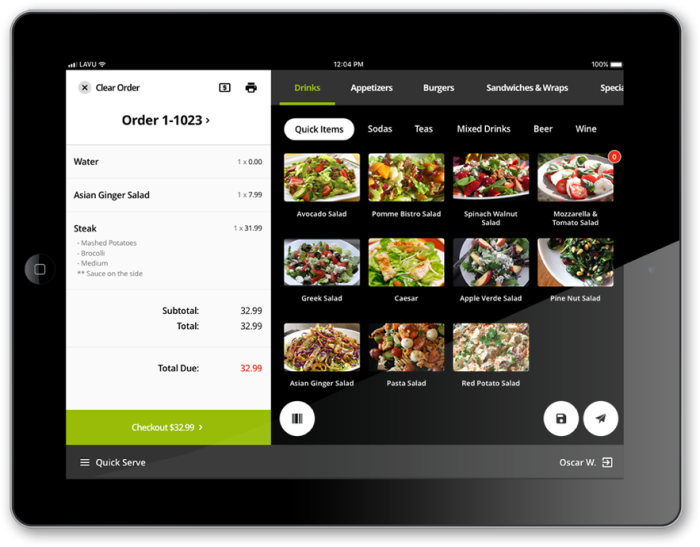 Other systems don't allow photo upload, but do allow you to categorize items for faster entry. You can add items to specific groups (such as "sandwiches" or "beverages") so servers know where to look. Some systems also allow color-coding the categories for a visual cue.
Most systems offer modifiers, allowing staff to adjust the dish to a customer's specifications.
Happy Hour Pricing
For restaurants that offer "happy hour" specials, a POS app that automatically adjusts the pricing during the hours of the promotion can be a lifesaver. Not only does it save time, it eliminates human error from staff incorrectly calculating a discount on the price, or forgetting to offer the happy hour price.
Customized Dining Room Layouts
It's much easier for your host and dining staff to seat and manage tables if the POS layout matches your actual restaurant. Customizable layouts are a common feature that allow you to update the system's layout so that it looks just like yours.
Tab Management
Bars / pubs or food service businesses with high alcohol sales know the importance of tabs. Tab management features let your bartenders open tabs, ring drinks under a tab, and close out easily. Many solutions even let you move tabs or checks to other bartenders or servers if a diner starts at the bar but moves to lounge seating or a dining table.
Check Splitting
It's more common than ever for diners in the same party to ask to split checks. While different POS apps handle check splitting differently, virtually all of them offer this function. Whether you need to split the check evenly, by diner, or between different forms of payment, you'll find check splitting capabilities are common in POS solutions. Some will even allow you to split a single dish (such as a shared appetizer or dessert) between diners.
Specialty Features
Unlike the basic and mid-range features, specialty POS features include those that aren't as commonly found in POS apps. Therefore, if these features are important to you, you'll need to specifically seek them out.
Delivery Management
Most commonly sought out by restaurants but also helpful for things like flower shops, delivery management lets you coordinate orders for delivery. It typically includes route mapping (as shown in the Revel POS app screenshot, below) to ensure the most efficient delivery schedule and lets you see when orders have been delivered.
Delivery management solutions can often be integrated with online ordering for a seamless customer experience. However, if you use a specific website platform, be sure to confirm that it's compatible with the POS app you're considering.
ID Checking
Liquor stores, bars, and clubs may want ID checking capabilities, which can prompt your cashiers to ask for ID or require details such as birthday be entered at the time of sale. Of course, it's not required that you have an ID checking feature in your POS app to check IDs. However, it can make it easier to remind staff to check, especially at busy times, if the system prompts them to ask for ID.
Finding the right app with the features you need can seem overwhelming. Fortunately, CardFellow has made it easy to research your options by creating a list of POS app reviews with feature lists, compatibility details, and more. Check it out in our processing equipment directory.
Point of Sale App Merchant Accounts
Point of sale apps may restrict usage to a particular processing company or allow you to secure a merchant account through your choice of processor. In this article, we've focused on the best POS apps that allow a choice of processors. Because you're able to choose a processor rather than let the app choose it for you, you're able to secure lower costs due to the increased competition for your business.
When you're ready to get a merchant account, head over to CardFellow.com to use our free price comparison tools to get the best deal.
POS App Costs
POS apps can be free to download or have a monthly cost. Free apps make money through credit card transaction fees. Typically, proprietary POS apps (meaning apps that can only be used with one company, such as Square's app) where the app provider is also a credit card processing company are free. This tends to be the case for mobile apps.
POS apps that allow you a choice of processors usually incur a monthly fee. Most point of sale app monthly fees start around $29.99 per register and go up to $179.99/register or more.
Mobile POS App Costs
Many mobile POS apps are free to download – it's using the features (like credit card processing) that will cost you. For example, several popular mobile apps including Square, PayPal Here, and Clover Go won't cost you anything to download. But if you want to actually use them to take credit cards, you'll pay a processing fee for each transaction.
For most mobile POS apps, credit card processing is the primary feature and the way the company makes money. Many apps charge just that one processing fee for use of any of the app's features. However, some apps or features may cost extra.
Take Square, for example. If you only want to use the smartphone reader with the original flat-rate plan, you will pay 2.75% for every credit or debit card you take. There's no monthly fee, and you'll have access to limited reports (including transaction history) and can use basic inventory features. However, if you want more robust capabilities, you'll have to upgrade to either Square for Retail or Square for Restaurants and pay a monthly fee per POS register.
If you want to run payroll through your POS app, that's another fee. If you'd like to use the Square Appointments feature, another fee applies there as well.
When comparing the cost of two mobile POS apps, be sure you're comparing what you'll really pay. If you're going to add on several optional components that jack up the monthly cost, the solution that already bundles those features into the price may actually be cheaper, even though the "starting cost" of the ala carte option looked cheaper at the beginning.
Regardless of whether you choose a mobile solution or a full system, our list of the best POS apps on the market is sure to point you in the right direction.
Did we miss one? Let us know your favorite point of sale app in the comments below!